Global Partner Supplication (GPS)
Regular GPS reports and requests are provided here for prayer and praise but only if they are not a security risk for our partners or the people they are seeking to reach. Use GPS to ignite a passion for praying for the fame of His Name among all peoples. You can pray over all our Global Partners here and you can follow this Global Partner Prayer Guide here.
---
Hurricane Nate Update from Anna Marie West in Costa Rica
Oct 7, 2017 - Dear Friends, Some of you have heard the news about Nate in Costa Rica and are asking how it has affected us. It has quite raining. But a lot of the people in the churches lost everything or their homes are badly damaged from floods. One pastor's wife wrote that her son could not get home because the road was closed. He finally made it home. Several areas are still without electricity, water, and remain unreachable. Some we are unable to contact. We do not know the extent of damage done to the churches. Some of our churches are being used as shelters.
Please pray for our churches and the people that their needs will be supplied but most of all, that God will use this to speak to their hearts; souls will be saved; and Christians will be drawn closer to Him. Thank you.
Sincerely in Christ, Anna Marie
---
LifeBridge Is Hosting the Perspectives Course for the KC Northland in 2018!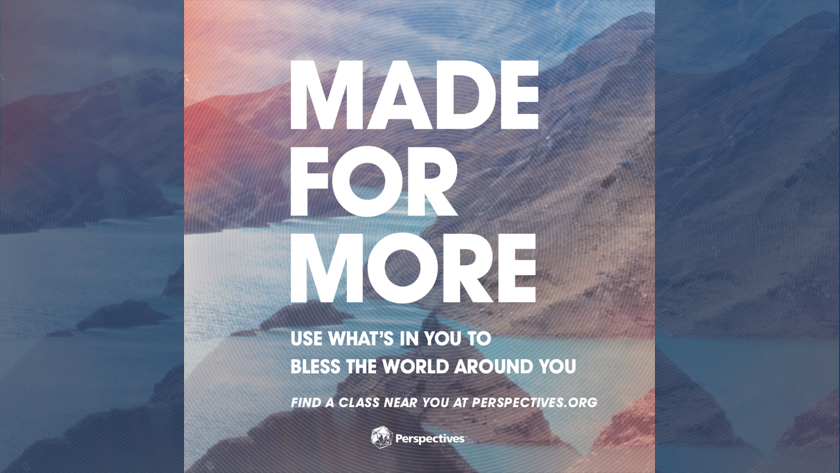 Sept 14, 2017 - LifeBridge is excited to host the 2018 KC Northland Perspectives Course January 15 through April 30. Develop a passion for God's global purpose by discovering your place in His global plan! LifeBridge is offering $100 scholarships for members and regular attenders who register by the early registration deadline of November 11. So far 9 LifeBridgers have taken the course including half of our Missions Commission. Alumni attend free!
Pray for members of our church as well as Christ followers from all over the Northland to register and be impacted with God's global vision.
Pray for volunteers from our church to be gracious and welcoming hosts that make the Perspective students feel welcome and comfortable.
Pray for speakers traveling from all over the world to be safe and their teaching to Spirit-led and Word-fed.
Pray for Pastor Chris who will be teaching Lesson 4 - Mandate for the Nations in 3 different locations in the Greater Kansas City Region including the Northland course at LifeBridge.
---
This summer has been a time of transitions and new beginnings for our family here in Metro Manila, Philippines. Our desire since our return has been to partner with a young Filipino pastor and be a mentor and help to him in his church plant and God has directed us to a new church to accomplish that goal. We have joined one of our Global Surge network church plants, Antioch Baptist Church in the city of Cainta. We have been bonding with Pastor Joel Suaiso, his wife Danielle and daughter Divine over the past few months, and we are excited to be attending and serving the members of Antioch alongside them.
Ptr. Joel is a BBCA graduate and was one of Jordan's students during his very first time teaching here in 2007. He had invited Jordan to preach their anniversary service back in February. Around that same time Danielle began working for Jordan in the BBCA Registrar's Office as well and has been a huge help in increasing our organization and efficiency in grades and record-keeping. Antioch recently relocated to a new neighborhood and is in many ways almost relaunching, reaching out to the community through VBS and small group ministries. Since joining, Jordan has had the opportunity to preach twice.
In addition to joining a new church ministry, here are a few more ventures from our summer worth noting:
It was the start of a new BBCA school year, with a strong enrollment and several new campuses launched. We also began the school year with a BBCA Leadership Retreat and spent time growing together as a team and seeking God's direction.
We had special guest John Kirkland, missionary to Kenya, at our annual BBCA Regional Chapels in July. He gave a powerful challenge to our students to consider missions work and several even surrendered to go to Africa after graduation.
Nikki taught a small group of pastors' wives and key women leaders in our ministry all summer, taking them through the book None Like Him by Jen Wilkins.
As a family we were able to visit the Global Surge camp in Iba, Zambales, showing the kids how thousands of Filipinos are being saved through our ministry every year and teaching them the importance of sharing the Gospel.
---
Sept 14, 2017 - Dear Pastors, Friends, and Family, It is hard to believe that summer is behind us and we are now into a beautiful fall. Mornings are cooler and the leaves are turning vivid reds, yellows, and oranges, but as we anticipate the business of the holidays, we take time to reflect on God's blessings of the past few months and His faithfulness. Our hearts and prayers continue to be with so many of you who have experienced the devastation of hurricanes Harvey and Irma. We pray that the Lord would bring His comfort to you and your church families, as you recover from these storms. May God get the glory and may His name be made known! Our church here in England wants you to know that prayers are being taken to our Savior on your behalf. God Bless each one of you! READ their September Update here.

By His Grace, Bill & Vicki Hoving / England
---
Global Partners Tom & Regina Franklin Survived Hurricane Irma - Continue to Pray for the People of Barbuda and the Carribean!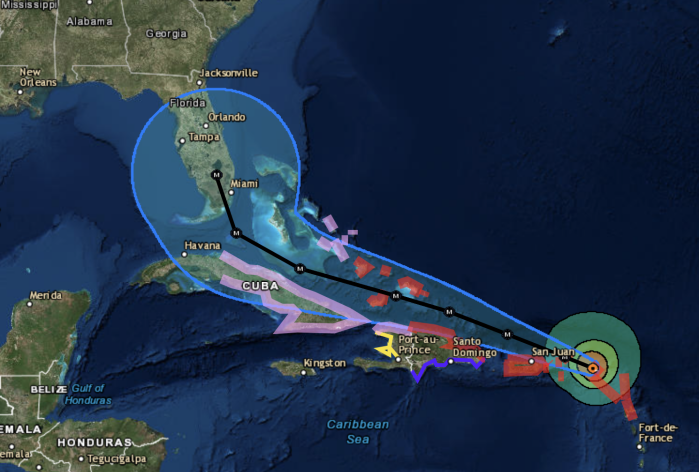 Updated Sept 14 / Sept 6, 2017 - Please feel free to share these prayer requests with others as Hurricane Irma approaches. "We did not enter upon our present positions under a guarantee of human protection, but relying on the promise of His presence." - Hudson Taylor
Our family and those who we love in the work here are busy preparing and in some cases moving to higher ground. Even as good judgment dictates a certain pattern, there is only so much poor communities in the developing world can do. Today Pastor Dial, Regina and I will spend a lot of our time serving the church in different government offices seeking permits to clear, fill and compact Don Pedro's church property. The work is always moving forward and tonight we will solemnly and humbly gather in prayer with the whole church over these 3 specific requests:
1) That Hurricane Irma will move Northeast away from all major population centers. Ps 91:1-4
2) The churches, pastors and members family's in His works in Familia Avance in the path of Irma will be filled with His mercy, peace and guidance.
3) That everyone in Familia Avance will be strong and our witness, wisdom, faith and love will go before us and meet the spiritual needs of those around us. 1 Cor 2:4-5
---
Salta Teams Plant Gospel Seeds and Return to Cordoba and Kansas City

July 25, 2017 -The Alumbre and Condor Teams have returned safely to Cordoba, Argentina and Condor Team member, Amber Regas, is making her way home to Kansas City. Please pray for Amber's reverse culture shock as she reenters life after being embedded in Argentine culture, especially after an intense week in the mountains of Salta. Pray that the gospel seeds planted in the hearts of Salta people, schools, and homes will bear fruit that remains for God's glory!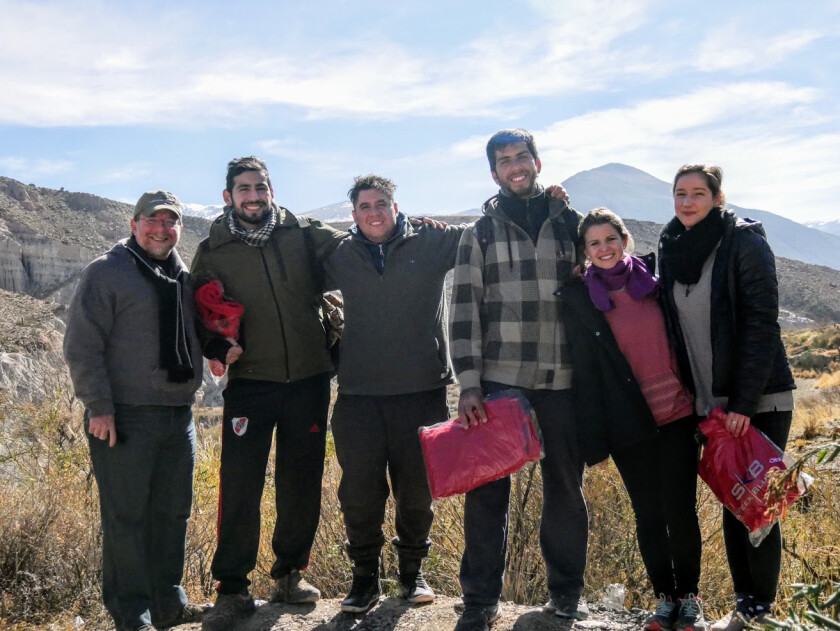 Global Partner Sam Masters and the Condor Team in Condor Huasi. The Condor Huasi team stayed at a family's farm in the mountains. They got to live the true mountain life experience!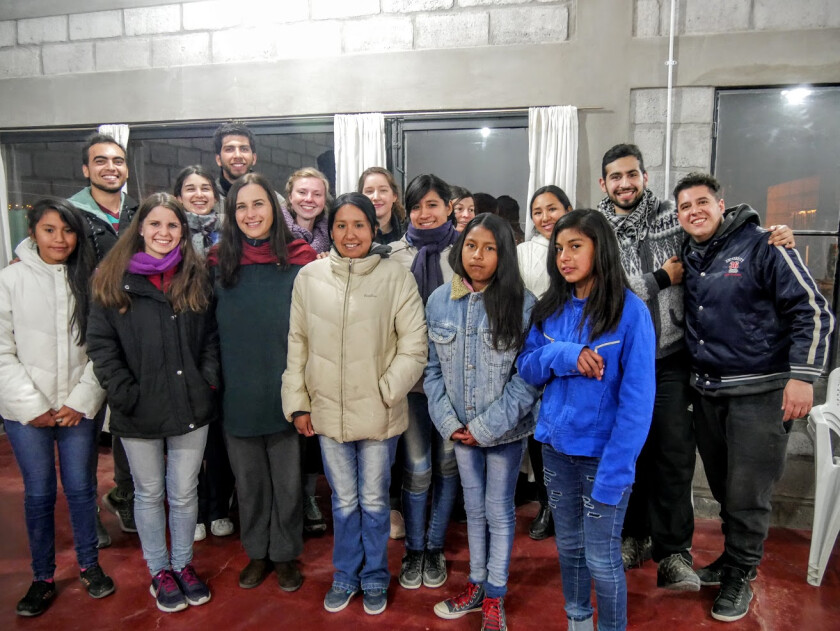 The combined teams of Alumbre and Condor.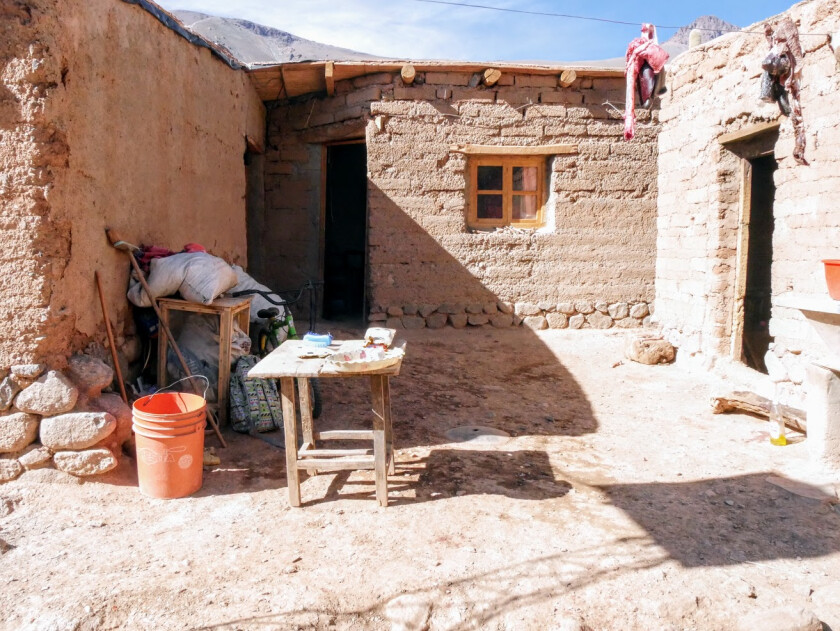 Living conditions were rustic in the mountains.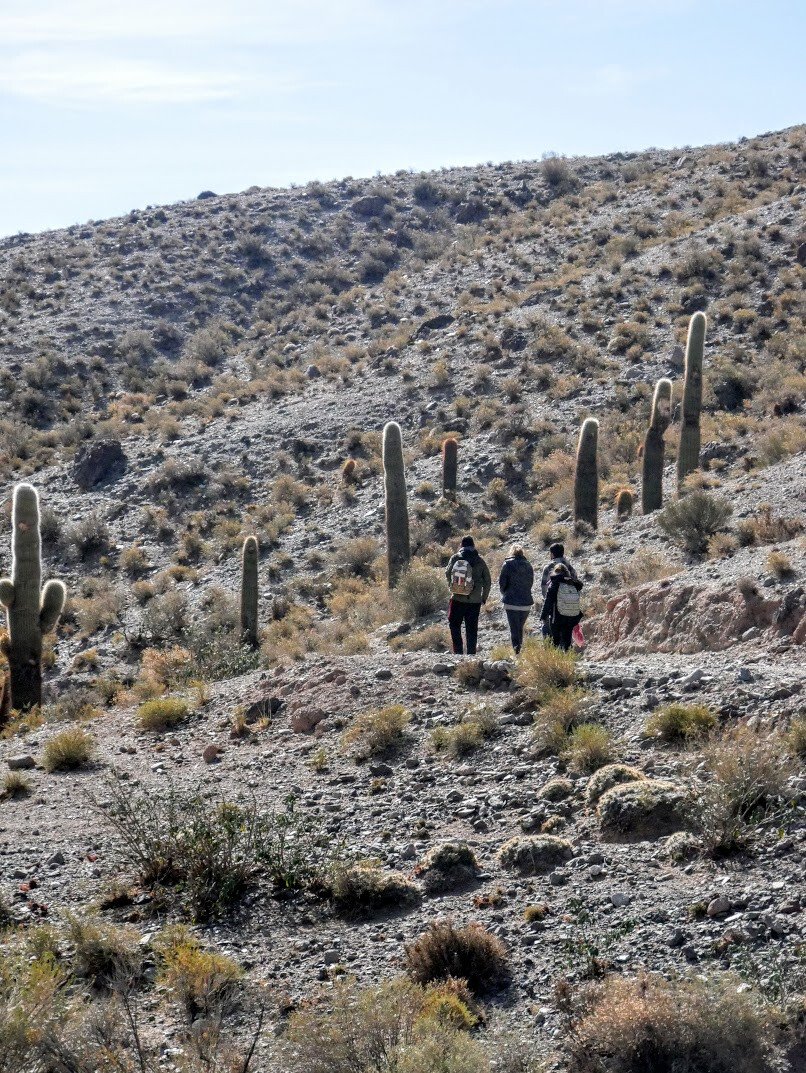 The Condor Team spent each day walking several miles to visit local farmers and their families. At each house they would talk with the locals and share the gospel.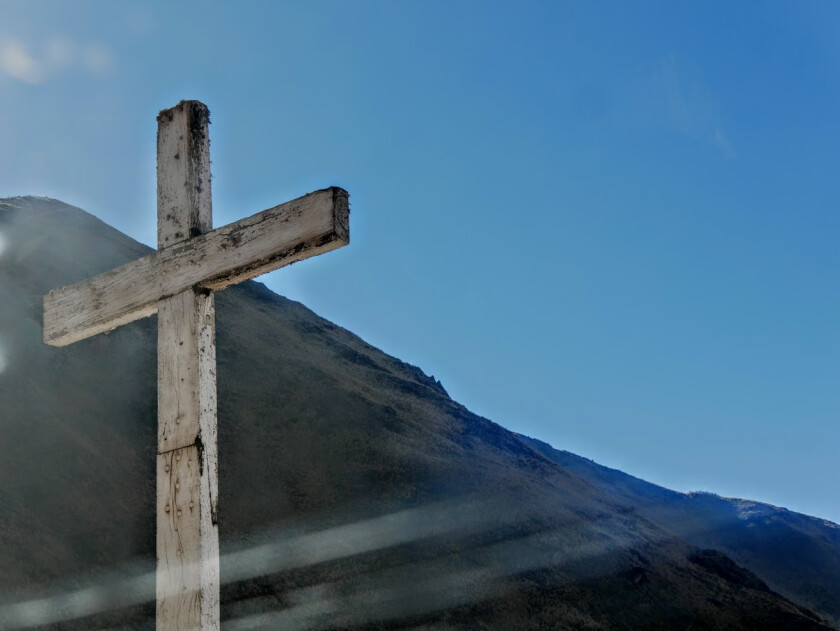 Going global means sharing the Good News of Jesus Christ with every tribe, every nation, every language, and every nation.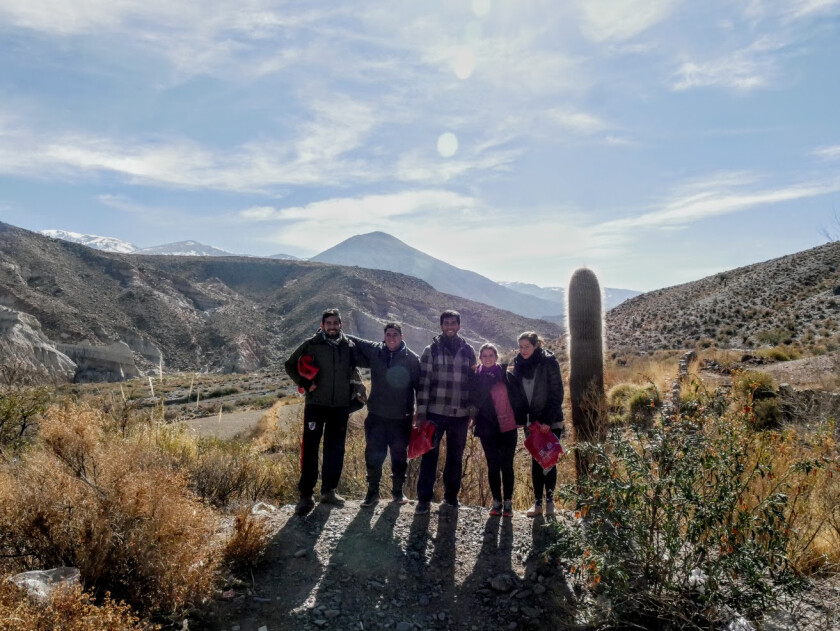 Leandro, David, Matias, Micaela, and Amber made up Team Condor.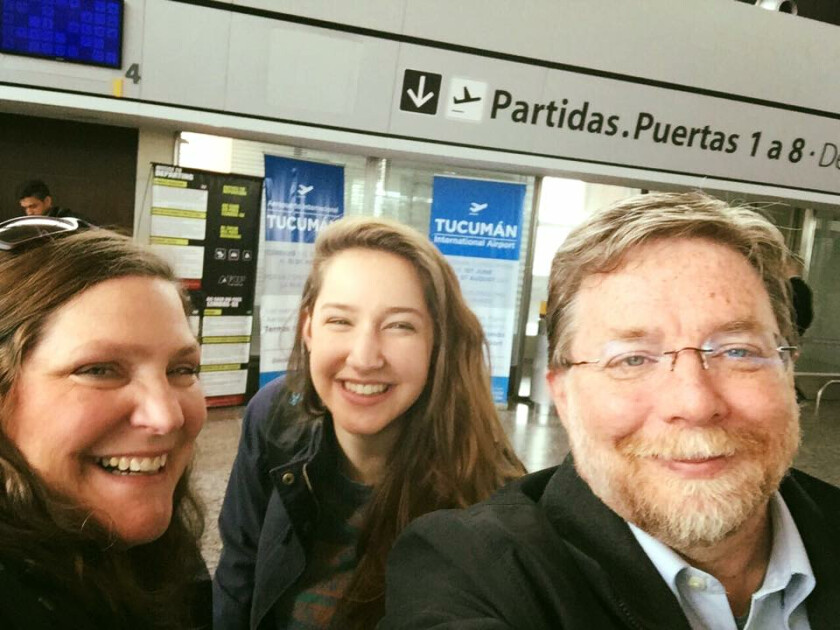 Amber had the advantage of building on the testimony and bonding of Audra Glotfelty, who was an intern in the past with the Masters at Centro Crecer. Such mutual partnerships are essential to our philosophy of going global to fulfill the Great Commission.
---
Salta Mission Update and Prayer Needs.

July 20, 2017 - This morning both teams are in the streets (or rather, dirt paths) of Alumbre and Condor Huasi, visiting locals with the goal to encourage them and share the gospel. Our Condor Team has an especially arduous job, since families tend to live miles apart from each other. Pray for strength, health despite extreme cold, and open doors to bless families.
---
Proof of Life! The Condor Team Is Alive and Well in Salta and Staying on Mission.

July 18, 2017 - Global Partner Sam Masters connected with the Condor Team as they are roughing it in the high country of Condor Huasi (Condor House). Keep them in prayer including our own representative, Amber Regas.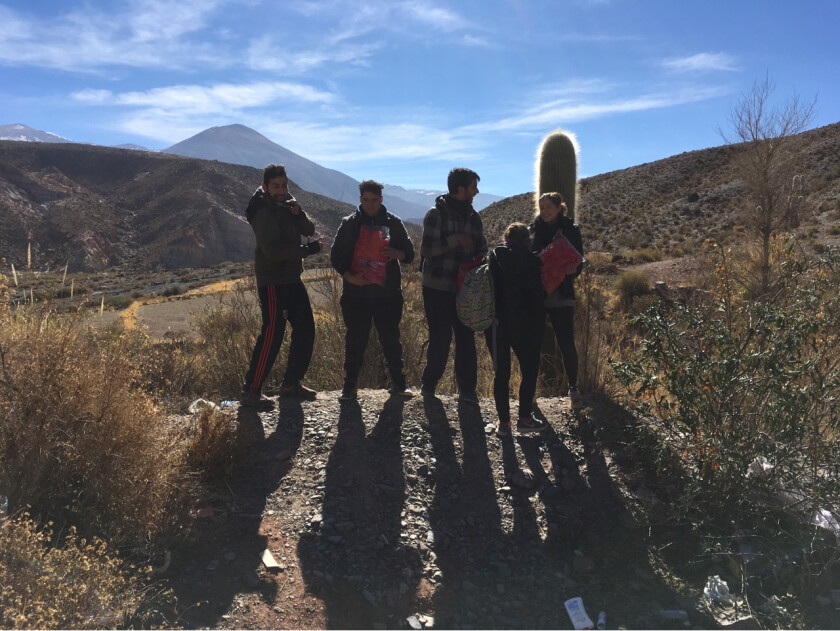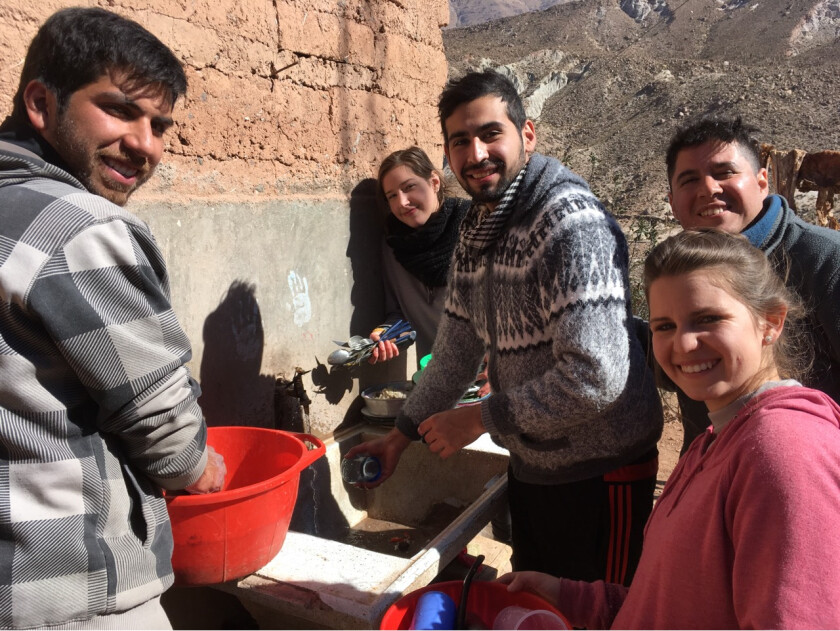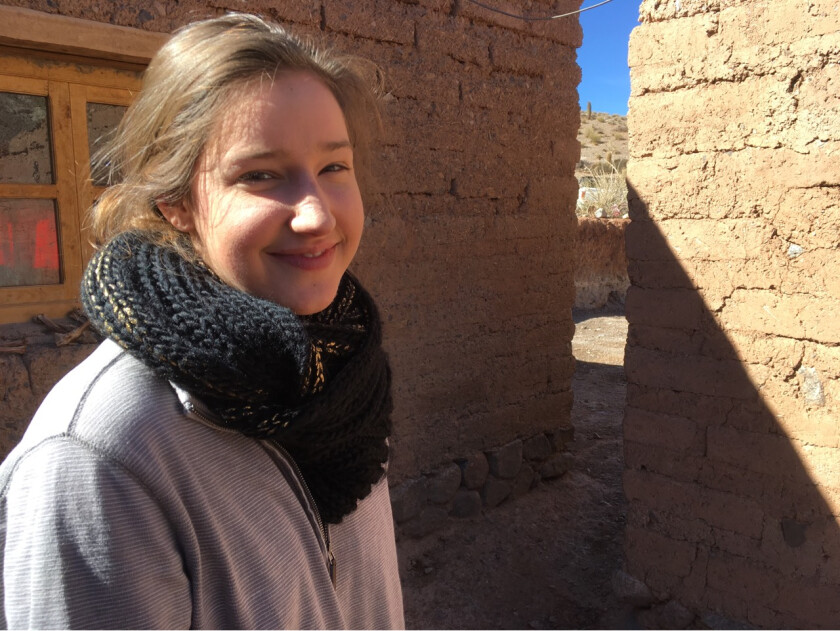 ---
The Salta-Cachi Mission Team Divides to Multiply on Mission in Argentina

July 18, 2017 - This week our team will be divided into two tiny rural zones. This is the "Condor Team." They are out in the middle of the mountain with no electricity or running water! Their goal for this week is to visit the families in Condor Huasi and share the gospel.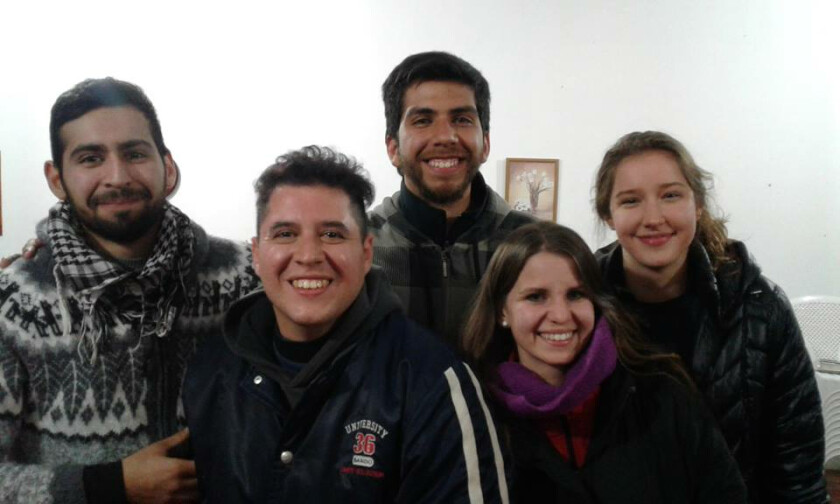 This team is working with Amigos Por Siempre in Alumbre...training teachers to give doctrinal Bible classes to their students.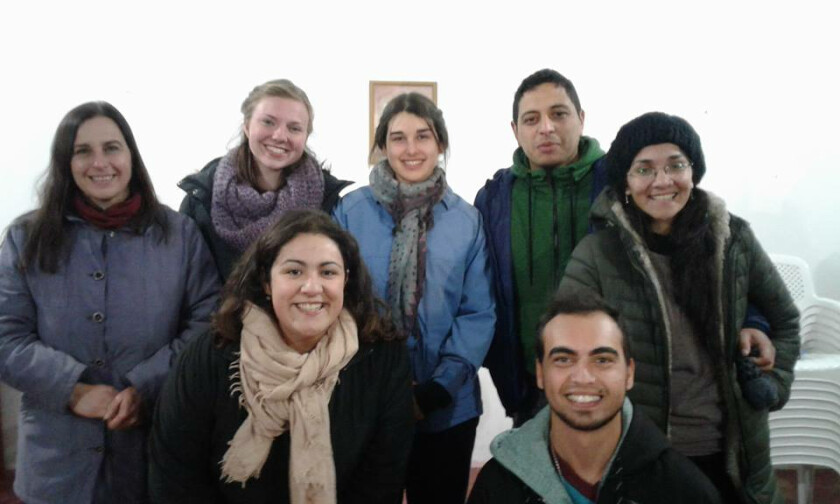 ---
Pray for Salta-Cachi Mission Team in Argentina from Global Partner Sam Masters
July 10, 2017 - It's our biggest missions trip of the year! William Carey Seminary Students will be working with The Crecer Foundation , missionaries from Reaching & Teaching International Ministries and the local congregation of Iglesia Bíblica Bautista Centro Crecer. One of our own - Amber Regas - will be joining the team and making the trek this Saturday as well. Please keep her in prayer as she represents our church on the Salta team. Check The Carey Students page for constant updates and be in prayer for the team!
---
Shout Out to Those Successfully Finishing the Perspectives Course!

May 4, 2017 - Congrats are due to Dana Luehring, Randy & Esther Wehner, Gwen Regas, Amber Regas, Tyler Adrian, and Jeremy Bollman along with alumni Bill Bollman and Chris Regas for successfully participating in the Perspectives on the World Christian Movement course here in the Northland. Special shout out to Randy & Esther for persevering in pursuing the Certificate Level with the required reading. Pastor Chris taught Lesson 4 - Mandate to the Nations for the first time as well. Next year's course is being set now with the potential for two courses here in the Northland. The investment of our Faith Promise Giving in scholarships to help make this possible has the potential to pay eternal dividends in getting the gospel to the unreached and unengaged! Congratulate these brothers and sisters when you see them and continue to pray for fruit to remain from this stretching experience! Contact Pastor Chris for info on the 2018 course.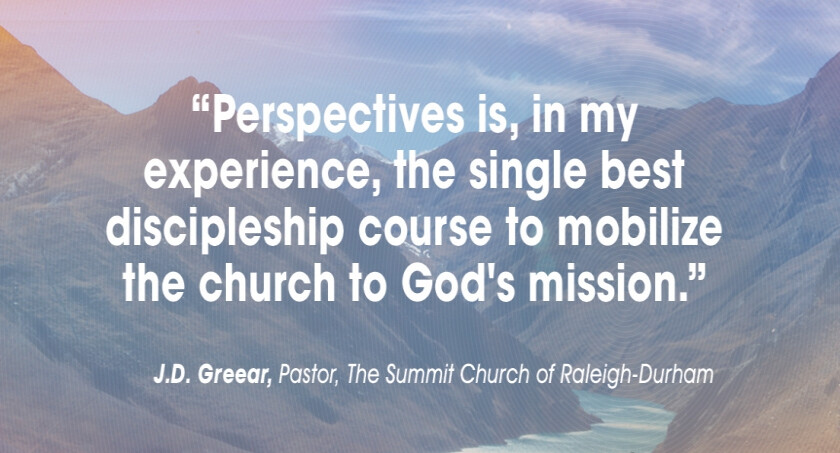 ---
BBC Asia Graduation Report from Global Partner Jordan Nisly

May 1, 2017 - Last month we celebrated a momentous commencement for Baptist Bible College Asia. This concluded another successful school year, recognizing the graduating class of students for their faithful commitment to their studies. This year BBCAsia graduated 762 students, fulfilling its aim to train effective leaders for the 21st Century. Many of these students were already serving in ministry as they studied, either as volunteers or pastors who desired a greater equipping for their ministry. Some of our students have been taking double the school load, attending full-time at a secular college at the request of their parents and full-time at BBCA, where they desired to attend to grow in their Christian faith. All of our graduates have persevered in their studies this year and we anticipate the incredible journey the Lord has in store for each of them to proclaim His Gospel and bring Him glory. It is gratifying to play a small part in preparing our students for that future through instructing them in God's Word.
This year's graduation proved to be a special occasion in the annals of the school's history. We awarded Senator Emmanuel "Manny" Pacquiao with an honorary degree in recognition for his very public Christian testimony and influence for the Gospel. Pacquiao has served as a senator since 2016 after six years in the Philippine House of Representatives, but it is his role as a professional boxer that has brought him international acclaim, having won numerous world titles in multiple divisions and weight classes. Although he had planned to attend, the day before graduation he was called away by the President of the Philippines for a special function and unfortunately had to change his plans, but he sent his personal assistant to read his speech in his stead.

Also of significance this year, InTouch Ministries, founded by Dr. Charles Stanley, gifted a tablet to each of the fourth year graduating students in recognition of their hard work and perseverance.

It was a satisfying conclusion to Jordan's first year serving the students, professors and deans of BBCA as Registrar of the college. During this past year he has been able to teach a couple classes, build relationships with students, tour our 16 campuses and speak in chapels, spend time encouraging our volunteer professors, and introduce new systems to help improve our organizational and administrative efforts. We look forward to reporting on even greater accomplishments this coming school year.
---
Church Officially Established in Cachi, Argentina

April 16, 2017 - Dear Brothers: I wanted to share with you that by the grace of our Lord on the first of may we will be serving eight years in Cachi and last night we have officially established the Bible Church of Cachi, having first signed the pact between the first members and held the Lord's supper.
Pray that His grace will be extended to each of them and that the Lord will continue to add to His church.
Thanks to all of you for your support and faithful prayers.
The Lord bless you,
Pastor Marcelo Brondo
Cachi, Argentina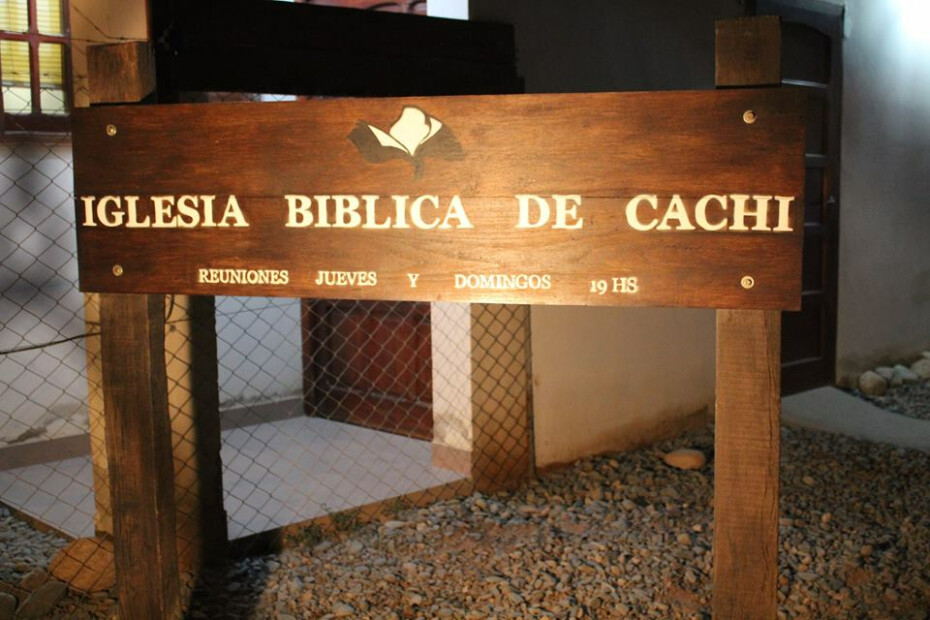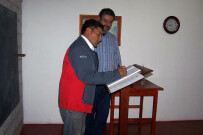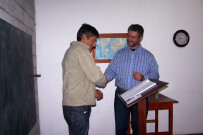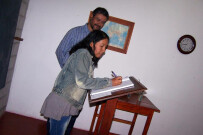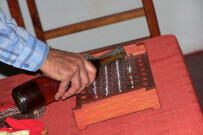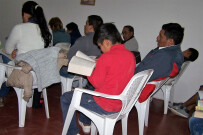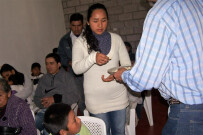 ---
Check Out Resurrection Sunday with Our Global Partners
---
Pray for Our Global Partner Sasha Rasmussen

April 13, 2017 - We are headed off to our annual college ministry spiritual retreat. Please be praying for all 55 of us as we seek to learn more about our risen Savior and what it means to live always in His presence. Please pray that the lost students who are going would be touched by the preaching of the gospel and respond in repentance and faith! Thank you for your prayers in advance!
---
Help Rodger & Lynne Schmidt This Sunday

April 4, 2017 - Thank you for helping our Global Partners get the following items as they prepare to leave for Mozambique: pediatric & adult rehydration packets, moistened burn gauze, tea tree oil, anti-fungal cream, and icy hot. These items have been shipped! They will be used to build bridges for the gospel to people on Mozambique Island.
---
From Our Global Partner Jordan Nisly - Island Hopping with the Gospel

February 28, 2017 - A little over three years ago, Super Typhoon Yolanda (or Haiyan as it was known here) struck the central Philippines, 145 mph winds wreaking havoc on the smaller islands and resulting in devastating loss of life. Homes were destroyed, electricity and cell service took months to restore, and the debris still remains in many areas. Though our ministry was not directly impacted, we felt a tremendous burden from the LORD to minister to those who were. Members of our Global Surge missionary team visited the region and God led them to the doorstep of Pastor Dennis Mendoza, a lifelong native of Bantayan Island. During the following year, we were able to raise money and help rebuild many homes as well as repair Bantayan Baptist Church, its Christian school, and its two daughter churches on the island.
To be honest, we thought that would be the end of our involvement on Bantayan, but God had other plans. With the leftover money from the relief effort, we were able to build Pastor Dennis a boat. For years he had been burdened by the dozens of smaller islands around Bantayan, all with a minimal Christian presence and no Christian churches. We began to partner with Pastor Dennis to help support his efforts to start Bible studies on those islands, bringing teams down to help with VBS and evangelistic outreach.
I recently had the opportunity to visit Bantayan with fellow GS missionary Trevor McNellis, who has been instrumental in working with Pastor Dennis. During my time there we visited one island, Biagayag, where a great many people have accepted Christ, and Pastor Dennis is ready to move forward with building a church there. Another day we accompanied Pastor Dennis and his people on their very first visit to the island of Moamboc. During our time there we were able to invite people to join us in the village square. Some ladies from Pastor Dennis' church played games, sang songs and taught a Bible story to the children while Pastor Dennis introduced himself to a gathering of 20 adults, preaching the Gospel to them. At first, the people were wary of these strangers on their island and kept their distance, but after ministering to the children, they began to open up, and an incredible shift in their demeanor occurred, as they became engaged with what Pastor Dennis was sharing. Almost everyone present responded to the Gospel and prayed with Pastor Dennis concerning salvation.
There is so much in store in the future to take the Gospel to the people of these islands, to see churches planted in these communities, to raise up local men to be trained as pastors, and to see a whole generation of people transformed by the Gospel on Bantayan. Next month construction will begin on a pastoral training center funded by one of our supporting churches in the U.S. I myself am working with Pastor Dennis to establish Baptist Bible College Asia on Bantayan to help him train up leaders in the flourishing ministry there and will be traveling down again soon. There is so much potential for the Gospel to spread through these islands. God has used the tragedy of Yolanda to open the door into these islands for the message of Jesus Christ to take root. Please pray for the following things:
Pastor Dennis and the people in his ministry as they serve and share the Gospel.
For God to raise up men who would be able to lead new church plants on these islands. Already Pastor Dennis' brother Michael has surrendered to the ministry and is planning on planting a church on the island of Doong.
Pray for me as I travel down to Bantayan several more times in the coming months and prepare to help Pastor Dennis launch his BBCA campus.
---
From Our Global Partners Reaching a Creative Access People Group - Bible Sticks Given to the Unreached, Unengaged by Other National Believers

February 16, 2017 - We were able to visit 4 families. Each one welcomed us very warmly, listened, talked and asked questions, and fed us. We handed out audio Bible sticks to them, and they were really excited to have something to listen to. The last family passed the mp3 player around to each other, "Listen! You can hear a guy speaking in it!". Please pray for these families as we follow up in the weeks to come!
Sincerely, Your Global Partners (Names Withheld for Security)