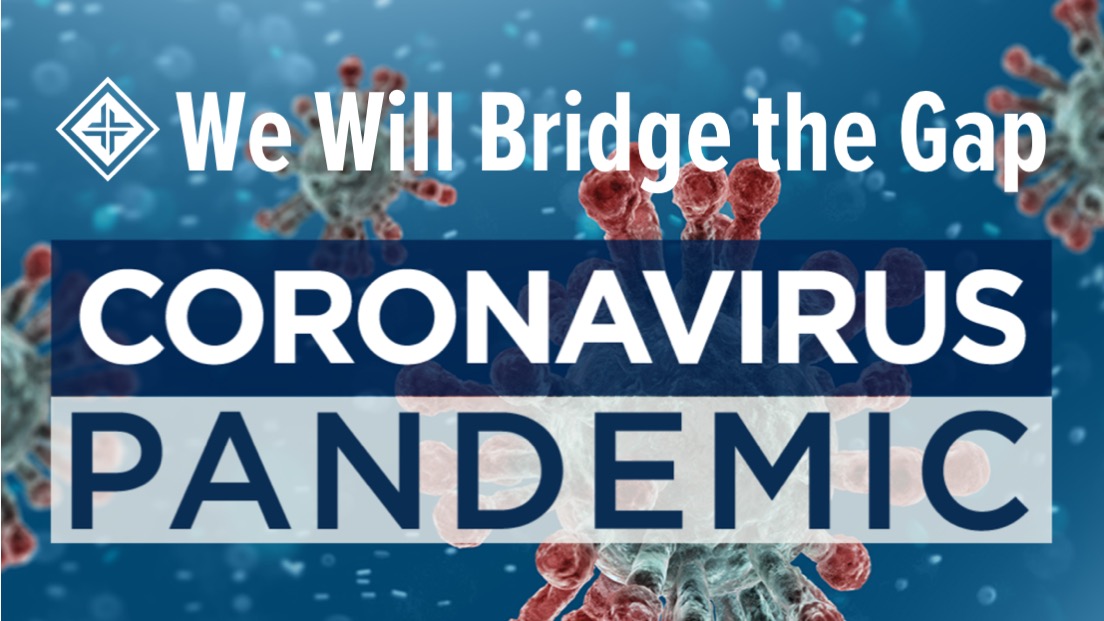 We Will Bridge the Gap During the Pandemic
LifeBridge Family and Friends,
As I write this, my heart is very heavy in regards to the COVID-19 pandemic and how it's affecting people across our country and around the world. But my heart is also filled with confidence in our sovereign God, knowing He works all things together for His glory and the good of His people. Yes, people are more fearful now than they have been in decades. But that also means people are more open to the hope we have in Jesus Christ! May God continue to use LifeBridge to "bridge the gap" between fear and peace during this global pandemic.
To this end, we are committed to fulfilling our mission and serving you as we navigate the challenges of this uncertain time with local, state, and national restrictions on large and small gatherings. In light of these restrictions, we are temporarily suspending all in-person gatherings. This includes Awana & Trek, Discovery Hour, Worship Service, and GrowGroups. We recognize that this may be the new normal for a while and changes the way we gather together for teaching, worship, and community.
Here are four ways we need to continue fulfilling our mission as LifeBridge:
Continue to WORSHIP! Plan to worship online on our Facebook page (Facebook.com/WeAreLifeBridge) this Sunday with teaching from Pastor Chris and preaching from myself. Join us for a live stream of the New Life Teaching, 9:30 AM and the Worship Message, 10:45 AM.
Plan to worship online at our Facebook Page (Facebook.com/WeAreLifeBridge) this Sunday.

9:30 AM New Life Teaching


10:45 AM Worship Message
Continue to GIVE! Your giving is critical to continuing the mission and ministries of LifeBridge. If you don't already, now is a great time to consider giving online via our website. It's safe, secure, and easy to set up recurring contributions. You can also choose to mail your giving envelop with your contribution to the church. Or you may drop off your contribution to the office or place it in our secure mailbox.
Now is a great time to

via our website.
Continue to PRAY! Part of being practical is being prayerful. Pray for the many medical, public safety, and educational professionals, our missionaries, and others who are already affected. Pray for the Lord's protection from illness among our people. Pray for Gospel opportunities to come from this pandemic. Pray for wisdom on behalf of our church pastors and leaders.
Continue to LOVE! Stay connected to one another, while practicing the social distancing requirements. Care for others. Share the gospel. Meet needs. In other words, Show Christ!
Let's remember that God is always in control. Don't panic as though God is not in control. Don't be proud as though you are in control. Instead, live with a wisdom perspective that proactively trusts the Lord's sure promises, while taking practical precautions. Therefore, as Christ-followers let's live with a Gospel-shaped response that is faith-based vs fear-based, hope-filled vs worry-filled, love-acting vs self-protecting, and Christ-centered vs crisis-centered.
The best way to stay informed is to look for ongoing communication here at WeAreLifeBridge.com, our social media (@WeAreLifeBridge with priority given to our Facebook page), as well as weekly email. If you don't currently receive our weekly email, contact the office and we'll be glad to add you to the list.
Stay strong in the Lord! By His grace we will Bridge the Gap together during this pandemic.
Bruce Adrian, Lead Pastor