Creative Access // 2020 WOC
Same Purpose
Our annual World Outreach Celebration (WOC) is a celebration of what God is doing in and through our church to reach the unreached and unengaged with the gospel. This church-wide celebration will inform, inspire, and involve all ages!
Different Format
Due to the pandemic and social distancing, the format for this year's WOC will be focused on the four weekends in October. See the schedule below and what events require registering beforehand, so we can plan for social distancing and you are still able to connect with our Global Guests.
Creative Access
This year's theme reminds us as a church that advancing the gospel requires creativity during the hard times of this pandemic. But it also calls us to focus on the hard places where the gospel has never been heard. The gospel is able to bear fruit in hard places during hard times. But God's people must persevere by God's grace in advancing the gospel. Messages from Paul's missionary letter to the Romans (Chapters 15–16) will frame the WOC this year.
Global Guests
All of our Global Guests are using creative ways to advance the gospel in hard places among people groups that are unreached or unengaged.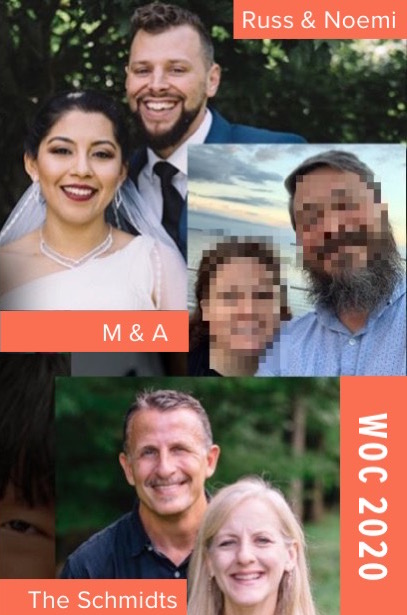 Schedule | Everyone Welcome
Registration: The IMPACT Nights and the WorldChanger Seminar do require registration. The Nursery (Birth to 4 yrs) will be available during the IMPACT Nights. Both the Nursery (Birth to 4 yrs) and Kidz Celebration (K-5th grade) will be offered during the WorldChanger Seminar.
Oct 4 | Sunday
9:30 & 11:00 AM
Speaker Pastor Chris Regas
Oct 11 | Sunday
9:30 & 11:00 AM
Speaker Pastor Chris Regas
5:30-7:00 PM - REGISTER HERE
IMPACT Night with Russ & Noemi
Nursery Available
Oct 18 | Sunday
9:30 & 11:00 AM
Speaker Global Partner Rodger Schmidt
5:30-7:00 PM - REGISTER HERE
IMPACT Night with Rodger & Lynne Schmidt
Nursery Available
Oct 24 | Saturday
5:00-7:30 PM - REGISTER HERE
WorldChanger Seminar with Global Partner "A" (Dinner Included)
Nursery Available & KIDZ Celebration (K-5th Grade)
Oct 25 | Sunday
9:30 & 11:00 AM
Speaker Global Partner "M" + Faith Promise Commitments