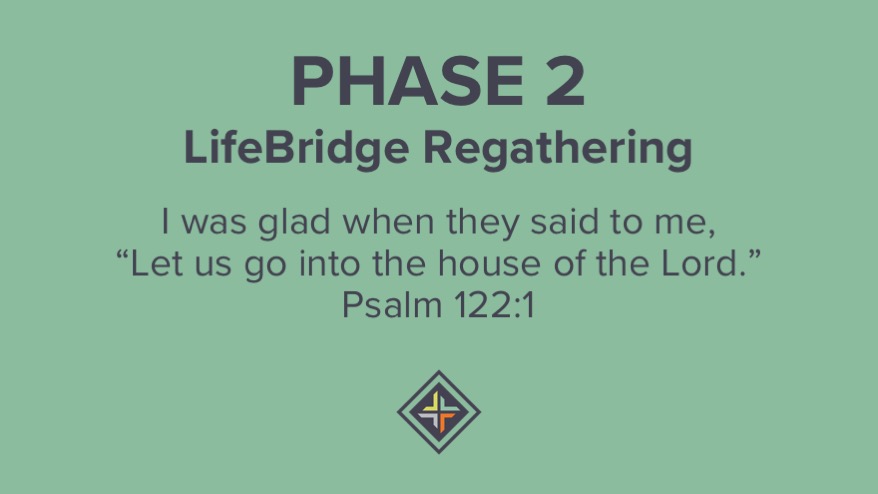 In light of the Mayor's recension of the COVID Emergency Order, we are implementing Phase 2 of LifeBridge Regathering.
PHASE 2: Limited Gatherings with No Restrictions
One Worship Service at 10:45 AM Beginning Sunday, May 30: We will once again worship together as one body in one worship service at 10:45 AM. There is still no Discovery Hour classes during Phase 2.

Kids Ministries: Kids ministries will continue to be provided during the worship service. This includes the Milk & Honey Nursery (Birth-Age 3), Promise Kids (Preschool–Kindergarten), and Kingdom Kids (1–5 Grade). Children are always welcome to worship with their parents or caregivers in the Auditorium.

Discovery Hour: We have set a target date of mid-August to resume Discovery Hour in order to give adequate time for planning as well as recruiting and training of volunteers - especially in our Kids Ministries.

LifeBridge Online: You can still join us for our livestream Worship Service on Facebook at 10:45 AM. The service will be posted online on our website, Facebook, and our YouTube Channel.
Two Questions
Are masks still required? No. You're always welcome to wear a mask if you prefer. But masks are no longer required at all LifeBridge gatherings, activities, and events for all age groups since there is no government order mandating it.
Are vaccinations required? No. Individuals are not required to be vaccinated before attending in-person gatherings, activities, and events at LifeBridge. We do encourage you to make the best choice for yourself and your family.
We recognize every person and/or family has the responsibility to determine what is best for their wellbeing and act accordingly when it comes to following the CDC's guidelines for COVID-19. At the same time, we also encourage every Christ-follower at LifeBridge to gather in-person for corporate worship for the sake of our church family and their own spiritual wellbeing.
LifeBridge Precautions
We will continue to implement the following precautions in order to reasonably mitigate contamination of COVID-19 while understanding some levels of risk will always be present.
Hand sanitizer will be available upon entering the auditorium and the main entrance to the church as well as classrooms and other places throughout the church.
Offering box will be available at Info Table for those who wish to give in-person. You may also give online at WeAreLifeBridge.com.
Pre-packaged communion (bread and juice) will be served when the Lord's Supper is scheduled.
The church facilities will be thoroughly cleaned each week.
Personal Guidelines
We expect all attendees to abide by the following guidelines during Phase 2 of LifeBridge Regathering.
Practice good hygiene: wash your hands often or use sanitizer, avoid touching your face with unwashed hands, and cover your mouth and nose with a tissue when coughing or sneezing or use the inside of your elbow. Stay home when you are sick or running a fever.

Monitor your health, and refrain from attending if you have symptoms of COVID-19 or have tested positive for COVID-19. This would be the same for the flu or other sicknesses.

For other COVID-19 guidelines, please refer to the CDC's guidance at cdc.gov.
The Importance of Gathering
We are thankful for the opportunity to gather in-person each Sunday to worship our Lord with His people, in His Spirit, and under the authority of His Word. We believe this is essential as a called-out community of believers in a local church now more than ever. For the sake of the Gospel, I pray you will continue to engage or re-engage in the community of LifeBridge and our mission to "Bridge the Gap" so more people will Know Christ, Grow in Christ, Show Christ, and Go with Christ.
May we live in a manner that is worthy of the Gospel, standing firm together in one spirit and
striving together with one mind for the faith of the Gospel.
Philippians 1:27
If you have additional questions, contact us!