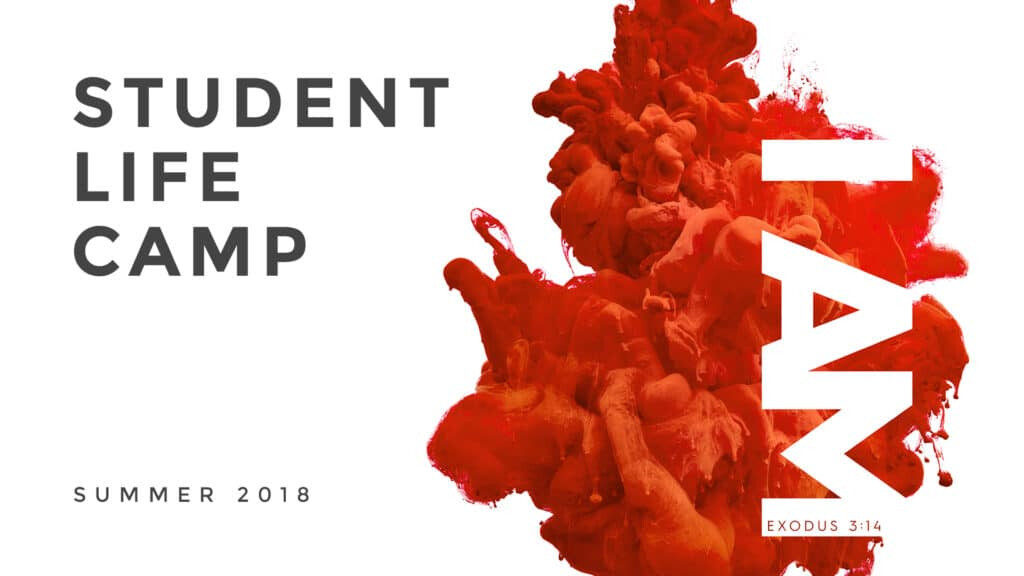 My Teen Went to Camp! Now What?
What happens before and after camp is as important as what happens during camp. Here is scriptural advice for parents and care givers to apply as their teens have come back from the 2018 Student Life Camp. This year's theme was "The I AM God!" Here are four proactive steps you can take to follow up with your teen after camp.

1. PRAISE the I AM God!
Camp doesn't change anyone; GOD DOES! But it does put your teen in a position to be changed by God. Philippians 2:12-13; Hebrews 13:20-21
Camp doesn't change anyone; GOD DOES!
So then, my beloved, just as you have always obeyed, not as in my presence only, but now much more in my absence, work out your salvation with fear and trembling; for it is God who is at work in you, both to will and to work for His good pleasure. Philippians 2:12-13
Now the God of peace, who brought up from the dead the great Shepherd of the sheep through the blood of the eternal covenant, even Jesus our Lord, equip you in every good thing to do His will, working in us that which is pleasing in His sight, through Jesus Christ, to whom be the glory forever and ever. Amen. Hebrews 13:20-21
Praise God for a Bible-based and gospel-centered camp theme:
I AM Who I Am (Exodus 3:1-15)
I AM Holy (Ex 12:1-14)
I AM Love (Ex 34:1-10)


I AM with You (Ex 40:36-38).
Praise God for committed, caring, and Christlike counselors from our church that KNOW, GROW, SHOW, and GO with Christ not just during the week of camp but throughout the year.

Praise God for Bible Study Leaders that not only prepared but adjusted to the needs of our students. They didn't let response dictate faithfulness and were not afraid to discipline in love.
Praise God for Zach and Sara Werner who continue to grow and show their love for our students with grace and truth.
2. PRAY! PRAY! PRAY to the I AM God!
God works through prayer. Pray through the parable of the "Four Soils/Hearts" for your teen(s) in Luke 8:4-18.
Pray that God would…
Soften Hard Hearts where the Word does not penetrate and Satan snatches it away.
Deepen Shallow Hearts that are emotionally stirred but not permanently changed, so the Word will take root.
Chasten Crowded Hearts that temporarily show growth but are eventually distracted by the cares of this world and drift away.
Strengthen Fruitful Hearts where the Word has taken root, is being held fast, and there is fruit that remains.
God works through prayer.
3. PURSUE the I AM God!
It is hypocritical to expect more of your teens than you yourself model for them. As parents, we must practice what we preach. How are you bridging the gap to KNOW, GROW, SHOW, and GO with Christ in your own life and family? 1 Thessalonians 2:3-12.
But we proved to be gentle among you, as a nursing mother tenderly cares for her own children. Having so fond an affection for you, we were well-pleased to impart to you not only the gospel of God but also our own lives, because you had become very dear to us.
For you recall, brethren, our labor and hardship, how working night and day so as not to be a burden to any of you, we proclaimed to you the gospel of God. You are witnesses, and so is God, how devoutly and uprightly and blamelessly we behaved toward you believers; just as you know how we were exhorting and encouraging and imploring each one of you as a father would his own children, so that you would walk in a manner worthy of the God who calls you into His own kingdom and glory. 1Thessalonians 2:7-12
4. PERSEVERE in leading and loving your teen to the I AM God!
It takes laboring in love, working by faith, and persevering in hope to disciple our teens in Christ. Truthing in love as you spend time listening to them leads to heart transformation. 1 Thessalonians 1:2-10
We give thanks to God always for all of you, making mention of you in our prayers; constantly bearing in mind your work of faith and labor of love and steadfastness of hope in our Lord Jesus Christ in the presence of our God and Father, knowing, brethren beloved by God, His choice of you; for our gospel did not come to you in word only, but also in power and in the Holy Spirit and with full conviction; just as you know what kind of men we proved to be among you for your sake. You also became imitators of us and of the Lord, having received the word in much tribulation with the joy of the Holy Spirit, so that you became an example to all the believers…For they themselves report about us what kind of a reception we had with you, and how you turned to God from idols to serve a living and true God, and to wait for His Son from heaven, whom He raised from the dead, that is Jesus, who rescues us from the wrath to come. 1Thessalonians 1:2-10
Truthing in love as you spend time listening to your teen leads to heart transformation.